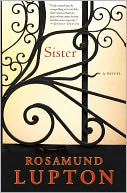 Sister
by Rosamund Lupton
Sister is a riveting debut novel that will keep you up at night, first in the reading of it, second in trying to get it out of your mind. A gothic thriller that's both suspenseful and lyrical, this one impresses on every level. Loaded with red herrings, it's hard for the heroine to trust anyone, and the twist will floor even the most seasoned sleuth.
When Beatrice's quirky, free-spirited sister, Tess, disappears, Beatrice jumps on the first plane from NYC to London. Bee has always watched over Tess, even from afar, and she's totally distraught that she somehow lost track of her twenty-one-year-old baby sister. They were as close as two sisters living an ocean apart can be; always in contact, always instinctively feeling when they needed each other the most. So, it's unthinkable that Tess could turn up dead in a filthy toilet building in Hyde Park, an apparent victim of suicide. Beatrice doesn't believe for even one second that her sister would commit suicide, even though the police, her family and her friends all believe it's an open-and-shut case.
Thus begins Bee's journey to find her sister's killer and herself, in the process. Part of the story is told quite poignantly through an open letter to her dead sister, telling her the details of her unwavering search for her killer, in addition to all the deep-rooted feelings she ever had for her, but was too proper to ever bother sharing. It's a hell of a journey, one that will have you laughing and crying, while at the same time admiring Lupton's ability to weave emotion in and out of the cold hard facts, making them easier to digest.
The story is also told as Bee relates her tale to a prosecuting attorney, the guy in charge of making sure Tess's killer stays behind bars for life. While the killer's identity remains unknown for the majority of the book, it is somewhat gratifying to realize from the beginning that Bee's search will not end in vain. There appears to be an end to her nightmare, even if it won't bring Tess back.
It is amazing to experience the development of Bee, as she changes from a cold, bossy, older sister, who had always watched life go by rather than participate. She eventually learns how to live again, how to survive without Tess. As she investigates, she more or less steps into Tess's shoes--living her life, meeting her friends, working where she worked--and learns, in the process, that her sister wasn't as flighty and directionless as Bee had always assumed she was. She learns to take risks and be compassionate, just like Tess had apparently been.
The suspects, some short-lived, others low lifes whom you want to believe to be guilty, even when you know they're not, are an interesting bunch. There's the elderly odd landlord, an obsessed classmate from Tess's art school, an art teacher, who just happens to be the father of Tess's baby that died a few days before she did, along with some medical researchers and the hospital staff where the baby was born and died. The medical piece has to do with the fact that Tess's baby had cystic fibrosis, a disease that killed their beloved brother when they were young. Through an experimental medical trial, the fetus was supposed to have been cured when an extra chromosome was injected. This scenario opens up another whole can or worms--some friends, some suspects.
I have to admit, the book did bog down a tad bit in the middle, becoming somewhat repetitive. I attributed this to the fact that there are quite a few clues and suspects to untangle, and a lot of it had to be rehashed whenever something new was introduced. Most of the time I didn't mind it, since Lupton is a skilled writer and handled it as succinctly and efficiently as possible. I probably would have had trouble remembering it all anyway. (It's kind of like when you play the game of Clue, everytime a player makes a guess, they have to restate everything, "Colonel Mustard in the study with the wrench," only Sister involves many more rooms and motives.)
Even considering this, I doubt the pages will turn any less quickly. Sister is a dark and compelling tale that must be consumed in large doses. Finding time to read it shouldn't be a problem, though finding a place to stop reading it, definitely will be. There's simply no good stopping point. Oh yes, it's one of those books, so don't bother picking it up, unless you don't mind not being able to put it down.
Bonnie Crisalli